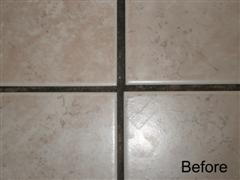 Tampa Affordable Carpet Cleaning is an innovative stone, tile, & grout cleaning and sealing company.
We keep up with the latest in cutting edge product development and services in our specific industry. We can literally clean, treat, and seal your grout making your floors look and stay looking like new.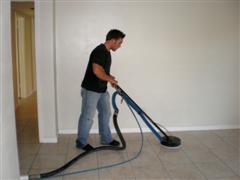 Grout lines are concrete with color that has no protection from dirt, stains and spills. The grout between the tiles is very porous and will absorb dirt and spills, which will become permanent stains. As your grout becomes more and more soiled, it will get darker and darker, becoming a breeding ground for germs and bacteria. In time the light colored grout will become so dark it will create black borders around each tile.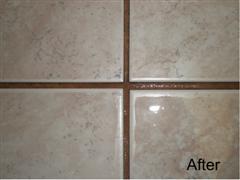 We use a specially developed pre-treatment solution and high-pressure, hot water rinse "steam cleaning system". Our tile cleaning system works great on ceramic tile and grout, porcelain, stone, & other hard surfaces.
Our tile and grout cleaning process:

We determine what chemicals are needed


We apply the chemical and let it stand for approximately 15 minutes to loosen all the embedded dirt


We pre-scrub traffic area by hand for maximum result


We then use hard floor high pressure scrubbing and extraction tool, as the equipment is cleaning, you can see the tile luster clean grout lines emerge


Job is inspected


Flooring will dries in approx. 15-20 minutes


Tile and grout sealing (recommended)
We strongly recommend sealing your tile and grout after it has been cleaned. This extra layer of protection seals the tile and grout, making it resistant to spills and stains and easier to clean in the future.